Of course I updated to iPadOS 15 as soon as I could. I don't run beta versions anymore, but since I don't use my iPad for anything critical, I'm not afraid of release day updates.
The way multitasking works now is great. Discovering and remembering the multitasking gestures before was next to impossible. I can't believe it took this long to add a tiny menu to the top of every app.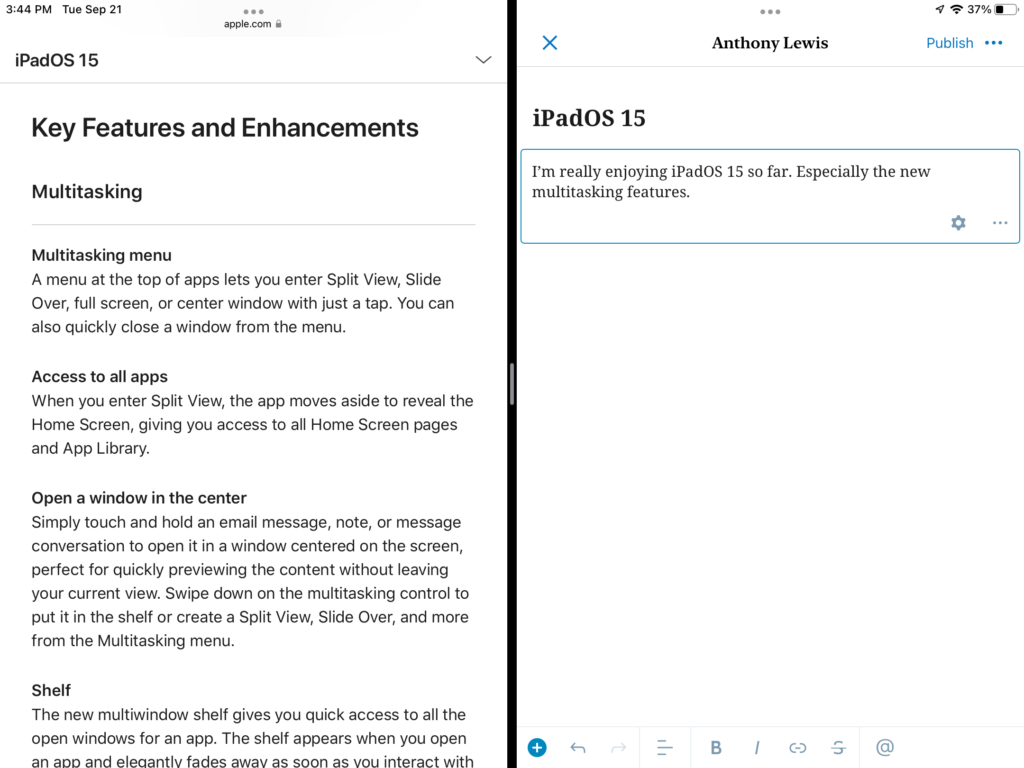 It's nice having the App Library on iPad now. I only use a handful of apps on a daily basis. It's nice having all of the infrequently used apps available, but out of the way. This should also help make room for the new widgets.
Speaking of widgets, I'm not currently using any. I'm not sure I really see the point. Maybe they just don't fit my iPad usage patterns. I spend most of my time catching up on news, reading books, writing a bit, and playing casual games. I'm not sure where widgets fit into that.
I'm still getting used to the changes to Safari. The new extensions UI is great. I was able to install 1Password with just a few taps. The new rounded tabs are growing on me, but I still think they look more like buttons than tabs.
The best new features, in my opinion, are additional privacy protections in Safari and Mail. It seems like Apple is continuing to focus on online privacy. Anything that keeps advertisers from tracking me across the web makes me happy. I understand that content creators want to get paid, but you can still show ads without tracking.